Ayurveda Training 2018/2020
The training has already started. If you would like to get a notification about the next training, please sign up to our newsletter.
Ayurveda is not only a medical system for prevention and cure but a complete science of life. It provides guidelines for the right way of life to achieve and maintain the highest quality of physical, mental, social and spiritual health. To understand Ayurveda requires a new approach to life.


Ayurveda Academy brings you the rare opportunity to acquire Ayurvedic knowledge gradualy, in theory and practice, from Indian Ayurvedic scholars from BSDT´s Ayurveda college in Wagholi / Pune.
We are starting with the Basic Training Module in November, high quality education is guaranteed.
The capacity of the class is limited to 20 participants.
The successful completion of the Basic Training Module is a prerequisite for participation in the subsequent Advanced Training Modules.
Basic Training Module
The Basic Training Module consists of five weekend events, 22 lessons each.
The lessons consist of theoretical and practical sessions about various topics. We present using PowerPoint and additionally provide extensive written documents. Upon request, we can also produce the documentation in the respective native language.
After having completed Basic training Module you will be able to understand the individual nature of a human, the constant and continuous conjunction of body, senses, mind, and soul, and the unique psychosomatic approach of Ayurved. You will understand the importance of daily and seasonal regimen with respect to Doshas for maintenance of physical health. Also, you will understand the importance of guidelines about ethical conduct to keep mental health. Physical and mental health are interdependent.
Lecturer: Dr. Sushrut S. Sardeshmukh from BSDT´S Ayurveda College.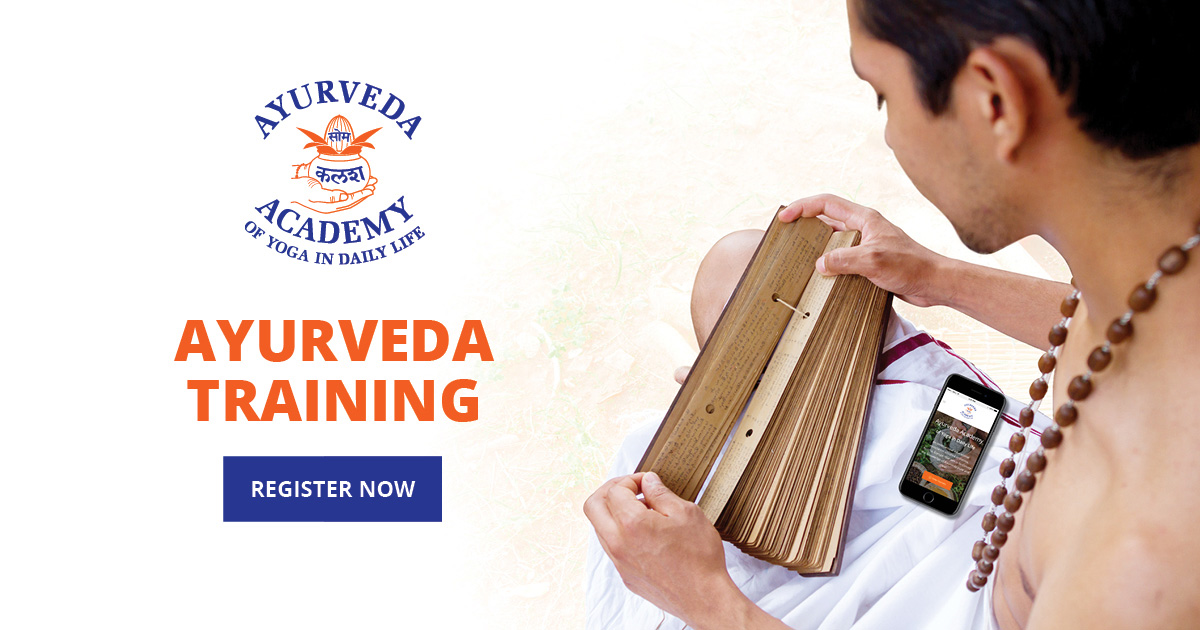 Location
The address of our training location is the
Yoga in Daily Life Center/Ashram in Vienna
Trubelgasse 17 - 19
1030 Vienna
Trubelgasse 17 - 19
1030 Vienna
Pricing
The Basic Training Module is only bookable with all 5 events.
Single payment option
2.275,00 €

Early bird option
1.980,00 €
You save 295,00 €
5 payments option
5x455,00 €

Early bird option
410,00 € first payment
You save 45,00 €
After the last Basic Training Event a final exam will take place which will be charged additionaly. Exam fee is 185,00 €
The prices include the execution of lessons, written documents in English, drinks, and snacks.
Common vegetarian meals are available at additional cost. We offer great quality at the lowest possible prices.
We can help with a list of hotels and apartments for accommodation. Please contact us.
If you require written manuals in your language we will be happy to make you an offer as these have to be charged at an extra cost. Please let us know if you need this.
The capacity of the class is limited to 20 participants.
Students from the following countries receive a discount: Czech Republic, Slovakia, Slovenia, Bosnia, Bulgaria, Croatia, Georgia, Poland, Hungary, Romania, Serbia, Ukraine. Please contact us: This email address is being protected from spambots. You need JavaScript enabled to view it.
Bank details for payments
Raiffeisenlandesbank
Niederösterreich-Wien
A-1020, F.-W.Raiffeisen-Platz Wien1
IBAN: AT95 3200 0000 12765707
BIC: RLNWATWW